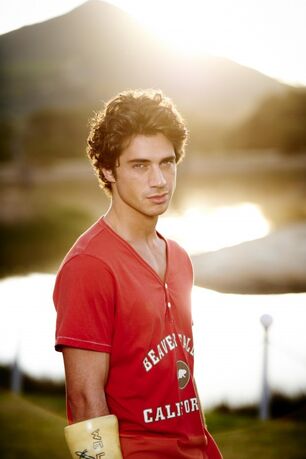 Background infomation
Occupation: Theatre Arts / Camp Counsellor

Species: Human

Age: 22

Family: Mother

Skin colour: Fair.

Hair colour: Dark brown

Eye colour: Browny green

Aliases: Flynn, (By everyone) , Spencer (By Pamela Jr.(PJ), Pamela and Bobby

Status: Presumed deceased due to illness

First Line: " Hello, America."

Portrayed by: Samuel Robertson.
Andrew or "Flynn." by everyone at the camp is "teaching" Theatre Arts at Beaver Falls. Handsome, absurdly confident and blessed with the gift of the gab, he is a natural born actor, and sleeps with anything on two legs.
But in series 2 having now lost the use of his right arm and also finding it hard to do simple tasks such as feeding himself and washing due to his condition (Motor Neurone disease.) and is aware that he may not have long to live, he begins to release that he needs to make the most of his life while he can; and whilst doing so fall hard for Pamela Jr. (PJ), the camp-owners daughter and which Bobby Jefferson isn't too happy about...
But all though Flynn knows this he tries to keep his terminal illness a secret away from the camp and Pamela Jr. (PJ) because he doesn't want things be ruined with him and PJ.
Flynn and Pamela Jr. (PJ) fall in love and impulsively decide to marry at the camp, with Flynn vowing to stay in America with her rather than return to Britain, and although the wedding is abruptly halted when Flynn confesses that he had slept with her mother the year before, the couple are ultimately married.
The show ends with Flynn and Pamela Jr. (PJ) driving off as the newly married couple. Barry, A-Rab, Rachael, Mac., and Kimberley swim in the lake – Mac. decides to return to England with Barry and A-Rab – while Barry suggests they crash Flynn's honeymoon.